Welcome to day three! The accents have become more pronounced and a little hotter.  Especially, when imagining the accents on the leading guys of today's book pictures. 
Louisiana 

Poison Princess by Kresley Cole
There are so many great books that take place in Louisiana, several of which provide insight into the tragic historical events of Hurricane Katrina. However, I wanted to keep my choice light and romance-y. This romantic fantasy has a Cajun bad boy, that you simply can't resist.
Evie has been experiencing horrifying hallucinations about the world ending in fiery destruction. Turns out, they weren't hallucinations, but visions of the future and past. The tarot deck has come to life in the form of teenagers. The teens representing the cards are forced into a battle to the death, which has been constantly cycling since the beginning of time. Evie represents one of the cards, which gives her supernatural powers that she can use against the other cards. With the help of Jack Derveaux and other allied cards, she may just survive.
I love this series and the steamy romance rivals the unbearable heat of Louisiana. Evie is a perfect representation of a firecracker, who doesn't take anyone's crap (even if they have a better handle of their powers).
Texas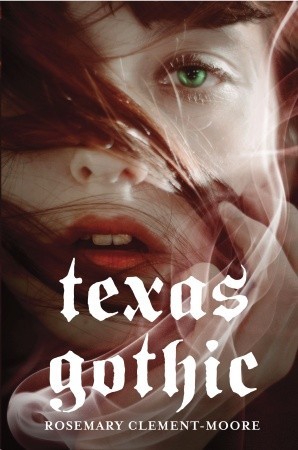 (Texas decided that it preferred to be represented by a star…?)
Texas Gothic by Rosemary Clement-Moore
Texas is and will always be represented by a Clement-Moore book. I am kinda obsessed with Clement-Moore and I am desperately waiting for a new book. Her female heroines are whip-smart, strong, independent women. Plus, she uses major vocabulary, which just make you feel smarter for even reading the words.
While difficult to decide which one to choose, Texas Gothic reigns supreme. Amy Goodnight's family practices Earth magic and she can see ghosts. When house sitting for her aunt, Amy finds that she is living with a super intense and irritating ghost. She  is forced to help unravel the mystery surrounding the ghost's death. Along the way, romance ensues (not with the ghost). This is a fast-paced hilarious novel.