Need to beat the summer heat? I find it best to read books about winter, snow, ice, and all accompanying features. Somehow, the air conditioner just seems colder and the breeze resonates more when I am stuck in a snow drift in a book.
White Darkness by Geraldine McCaughrean
 


 This lovely novel was the 2008 Printz Award Winner (for those of you who don't know, the Printz is given to the best book written for a young adults in any given year).
Sym has been obsessed with Antarctica since she was a little child. Even though she is a teenager, she talks to her imaginary friend Captain Titus Oates, the famous Antarctic explorer. Sym is living under some serious delusions, with some intense breaks from the real world. Her mental condition is further impacted when her Uncle Victor whisks her away to Antarctica, without clearing it with her mother first! The two join an exploration party, in attempt to find the South Pole. Things become dangerously cold and icy, forcing all parties to fight for their survival, just like Oates and his men.
 While I felt the story moved slow, it is an award winner and something I needed to familiarize myself with. I found the information about Antarctica and the explorers interesting, but that was not truly part of the story being told. The extreme cold found in this book certainly made me shiver on a summery day. I feel more informed because I have read this book, but it wasn't the most pleasant experience. At times, it felt like a chore.
Rating: 2 goblins
Being Sloane Jacobs by Lauren Morrill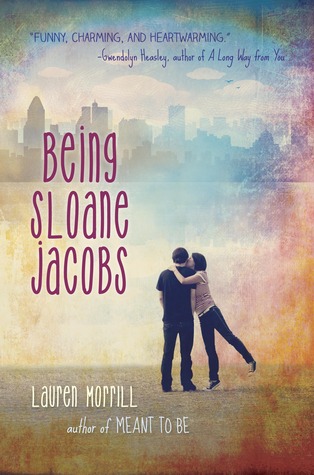 This is a book about two Sloane Jacobs, one is a figure skater and the other is a hockey player. Sloane Emily, the figure skater, totally bombed her last championship and her family is in a bit of turmoil. It is now time to work on getting back the the top (maybe). Sloane Devin is a funny, rough, trash-talking hockey player, who can't score a goal.  She needs to get out of her head, so she can play the game that is her best chance of making it out of her hometown. Both are sent to Montreal, Canada for skating camps. Since the two share a resemblance and a name, they decide to switch places. By coming out of their stressful lives, they are each able to work through their issues, and meet some hot guys along the way.
While everything in this book is pretty convenient and stereotypical, it is still fun and funny. It isn't a masterpiece of ya fiction, but it is a nice fluffy heat-beating read.
Rating: 2 Fairies
Winterspell by Claire Legrand 
I would like to take a moment to reflect on the beauty of this cover! The colors, the knife, the raven, the book looks totally cold and creepily interesting.
This is a fantastic retell of the nutcracker story. Claire's father is the mayor of New York City in 1899, but he is really a shell of himself since her mother was brutally murdered. Claire has since trained in self defense with Drosselmayer (which is a complete no-no because of setting, women doing man things is a travesty). One night Claire's home is attacked by  fantastical beings and her defense skills are put to the test. Claire goes through a mirror to save her father from otherworldly abductors. Claire is allowed to fully come in to her power and fights the forces of evil in this cold retell.
I really liked this book. I felt that this book was beautiful. Not beautifully written, but beautiful. I love the romance between Claire and fallen Prince Nicholas. This book felt similar to Dorothy Must Die.
Rating: One Unicorn


Dash & Lily's Book of Dares by Rachel Cohn & David Levithan
In his favorite bookstore, Dash comes across a red notebook with a scavenger hunt challenges. If he accepts, challenges await.  If not, he should just put the book back and walk away. Dash and the journal's creator, Lily, find themselves adventuring through New York City on their winter break. Their only communication is through the notebook, but they begin to want more contact from each other.
I would love to spend my winter break (if I still had one :[ ) going on these adventures. The story is quick and cute. The romance between Dash and Lily is adorable.
Rating: One Unicorn




Trapped by Michael Northrop

No one realized the true threat the incoming blizzard posed.
School released early and most high schoolers got rides home before the incoming winter storm made the roads to treacherous to travel. Seven students, which include, Scotty, Pete, Jason, Krista, and Julie, are all left behind at the school. This doesn't seem like a big deal to the students, actually it seems fun. Hopefully, the guys will be able to put the moves on some of the girls (not in a terrible rapist way, but in an I am such a dork, and now I finally have a chance to show the girl I am alive way). As the snow continues to pile up and becomes colder, the students are soon forced into a fight for their lives.
This totally read like an end of the world apocalypse book, when really it was just a natural disaster book. I found it super compelling and interesting. Also, it had me searching my house for canned goods in the middle of summer, in case a blizzard blows through. This frigid book with definitely keep you cool.
Rating: One Unicorn
Have fun and stay cool this summer!
Adios, Sarah!