Happy August!  As we move into the hottest month of the year we've complied a list of new books that are perfect for an afternoon by the pool.
Becky's List
The Beauty of Darkness by Mary E. Pearson
Release Date: August 2
It took a while to warm up to Lia and Rafe in "The Kiss of Deception" but by the end of the novel I was hooked.  "The Beauty of Darkness" is the final tale in The Remnant Chronicles and I have to know what happens (not that I want to know…I HAVE to know).  Will Rafe be able to get an injured Lia back to the palace?  Will Rafe's family help our favorite royals?  Or will Rafe's father turn on them like Lia's father?  I can't wait to find out!
United by Melissa Landers
Release Date: August 2
The third book in the Alienated series brings back one of my favorite intergalactic love pairing: Cara and Aelyx.  They have finally found happiness but it may be shorted lived when a new dangerous force, the Aribol, orders the L'eihrs to return to their home planet or everyone will be destroyed.  Cara and Aelyx will team up with their friends to uncover the mysteries of the ancient forces to save the Earth and their love. 
Under the Lights by Abbi Glines
Release Date: August 23
I love Abbi Glines' books.  All of her books are filled with perfect soapy angsty goodness.  This time she goes above and beyond with a love triangle!  Brady, Willa, and Gunner all grew up together and now Brady and Gunner have both developed feelings for Willa.  Who will she choose?  And how swoon worthy will it be?
It's All Fun and Games by Dave Barrett
Release Date: August 2
This book is about LARPing…LARPing!  That's all it took for me to add it to the top of my to-read list but added to that is the LARPing world taking over the real world and fantasy and reality colliding.  Um…that's just about perfect.
The Telling by Alexandra Sirowy 
Release Date: August 2
Sirowy's first book "The Creeping" was a surprisingly creepy but realistic mystery that I found to be a major page turner so I have high hopes for her second book.  This time the story is about Lana a girl who is experience a false reality filled with death and mystery.  I hoping for a spin chilling suspense. 
Sarah's ListThe Bad Decisions Playlist by Michael RubinsRelease Date: August 2nd
Austin meets his not-so-dead dad, who is actually a famous rock star. With this new connection, Austin attempts to grow his relationship with his father. Along the way, he meets a love interest, Josephine. The rock star life takes things to another level and has greater risks. Long lost fathers with rock star lives, sign me up.  
Unscripted Joss Byrd by Lygia Day Penaflor
Release Date: August 22nd 
I can't wait for the insane amount of drama found in this actress's life. I was sold by the love connection with her on screen brother. Welcome to weirdoville and drama. I am hoping for a tale of redemption and growth. Also, being yourself in the face of a world who wants to force you to fit into a box. I am ready for a fluffy read.
Tell Me Something Real by Calla Devlin 

Release Date: August 30th

From the arcs reviews, I am promised that this is a novel full of the feels. Also, I am promised that the book is way better than the cover looks.
A family of sisters must come together when their mother is nearing the end of her life, due to leukemia. Not everything is smooth and threats of betrayal begin to shake their connection. I love sibling books, especially ones that hit readers in the feels. I have high hopes for this novel.
 
Ghostly Echoes by William Ritter
 Release Date: August 23rd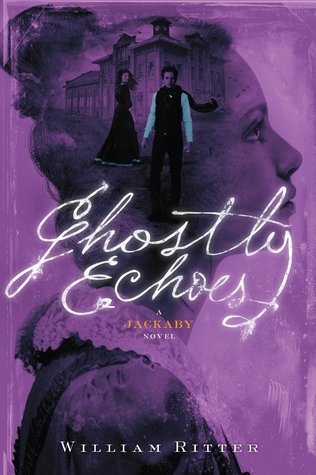 The long awaited third book in the Jackaby series. This is some serious supernatural detective work, not any of that girly glittery vampire crap. This third book involves searching for a ghost's fiance. The case is not as cold as Jackaby may believe, and Abigail and he must save those in the present. I love how creepy these books are. They are told from the same vein as classic, gothic, monster novels. I can't wait.

BTW I met the super nice and awesome William Ritter at BookCon this year. 
Day Zero & Arcana Rising by Kresley Cole
Release Date:August 1st & 15th

YES!!!!! I am so ready for the next installment of this series. However, I get both a novella and novel. WIN!!! I super love this series and recommend it to anyone I possibly can. I love this series as an audiobook. I can't wait to see how the rag tag band of tarot card Arcana characters come together again. I can't wait for more bayou Jack and to see more of the broody Death. Will Evie turn evil? Must read, cannot wait!