Hello all!
I, Sarah, am kicking off this banned book week celebration. Banned Books Week is one of my favorite weeks of the year. It is a time we book nerds celebrate the right to read whatever the heck we want. It is also the time of year when the American Library Association spits at censorship (maybe spitting is the wrong verb here, but I like to think that libraries can hang with the cool kids. I want to believe that libraries have dyed blue hair with a spike in their chin and tell the man to shove it when their rights are imposed on.) Anyway, people believe that there are certain books that should be removed from library shelves to save people from themselves, these are called banned books. These challenges transcend parents trying to keep their children away from gratuitous violence, or things that do not deem appropriate for their children. These challenges want to go all Footloose, with the book burning and angry spittled speech. The challenges ask that these books be removed from the shelves, so no one can ever read these books and develop their own thoughts about them. Inevitably, it just makes me want to read them more. I am a list girl, I live by lists. I took on the personal challenge of reading the top ten most frequently challenged books since 2000. Upon reading, I found that I had read racier books, which never appeared on the banned list because they weren't noticed for some reason or another. I have selected five of my favorites, starting with the most recent and moving backwards (however, most appear on the list multiple times).
The Absolutely True Diary of a Part-Time Indian by Sherman Alexie
ALA's Most Challenged 2014
Reasons for Bannishment: anti-family, cultural insensitivity, drugs/alcohol/smoking, gambling, offensive language, sex education, sexually explicit, unsuited for age group, violence. Additional reasons: "depictions of bullying"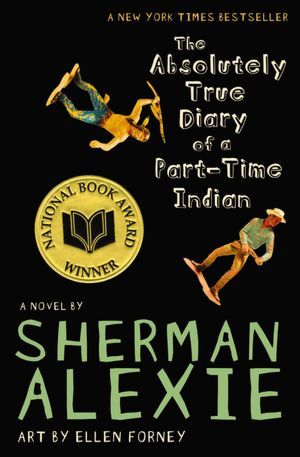 Get ready for some real world awesomeness. Junior is a teen guy living on the Spokane Indian Reservation, who is just trying to become more than his parents and the generation before him. Junior is further impacted by the fact that he was born with hydrocephalus, which leads to seizures, eyesight problems, and speech problems. Most people have written him off, but Junior is a smart and funny guy (like tearing up from laughing). Junior is given the opportunity to go to the better school, the white school, where he may just have the chance to get a better shot at a good life. However, going to school with white people, when you are a Native American kid can be hard. Junior faces the culture clash between the rich whites and the poor Indians. This book is about more than just culture clash, it is about trying to grow up with a good shot at life when your entire environment is waiting for you to fail. I was captivated by this novel. The author uses pieces of his own life, which I think make it feel more real. The comics associated with the novel add to the true hilarity.
Drama by Raina Telgemeier 
ALA's Most Challenged 2014
Reasons for Banishment: sexually explicit
Callie is obsessed with theater. She can't sing or act at all, but she is a great artist and lends her talents to the stage crew. As the crew prepares for their next show Moon Over Mississippi , Callie makes new friends with a set of twins. One twin has come out as gay, while the other incites romantic feelings from Callie. However, through a comedy of errors and confusion, the drama really heats up.
This is a great funny book about being in middle school. Finding a person you like that likes you back is hard and Telgemeier gets right to the heart of the matter. Quick fluffy funny graphic novel.
The Chocolate War by Robert Cormier
ALA's Most Challenged 2009
Reasons for Banishment: nudity, offensive language, sexually explicit, unsuited to age group
A chilling novel about how something that seems so innocent could become so dangerous. Typically students at a local Catholic high school sell candy bars to raise money for the school. It is considered an act of school spirit to sell the most. The principal relies on a secret society, the Vigils, which is composed of the most popular boys (football players) to encourage their fellow classmates to sell, sell, sell. Jerry is new to the school and cannot fathom what all of the fuss is about. He may have been brought into the popular click, but he has just decided that nothing in life matters. Nothing he does will better or worsen the world, so he decides to not sell the candy bars. He is the only student that decides to not sell candy bars, which causes discontent within the student body. Jerry's personal crisis soon becomes a dangerous affair. This book was totally creepy in its believably. It is one of those books that changes you.
Crazy Lady! by Jane Leslie Conly
ALA's Most Challenged 2005
Reasons for Banishment: offensive language
Vernon feels lost after his mother dies. He just can't seem to fit in to his family anymore. His father is having difficulties keeping up with the new responsibilities he has to take on after his wife's death. Vernon begins engaging in hoodlum behavior, making fun of Maxine and her son with disabilities, littering in their yard, and stealing. Soon, Vernon getting bad grades and he needs tutoring. He finds an elderly neighbor to help him out, and she demands that Vernon help Maxine around the house as payment. Vernon strikes up a new friendship with Maxine and her son, learning compassion for others. It is a funny heartwarming book. I really like Vernon and Maxine, because of their flaws and strengths.
Blood and Chocolate by Annette Curtis Klause
ALA's Most Challenged 2001
Reasons for Banishment: sexually explicit, unsuited to age group
I loved this book the first time I read it as a teen and then re-fell when I read it again as an adult. It is a spectacular shifter book. Vivian loves being a werewolf. She loves the magic of the change and the raw power of being a wolf. However, things have become precarious in the pack ever since her father died. Pack members are searching for a new leader and some male weres may use Vivian to get there. While Vivian misses her father, she does not question the pack, until she meets a human and falls in love. In a world where love between were and human is impossible, Vivian may defy her lot in life to be with who she really wants.