Gosh! We have been talking about some serious issues, this one being very close to my heart.  Bullying is such a great example of how terrible humans can be to each other, sometimes even progressing to deadly consequences. I have seen and been on the receiving end of these painful actions. The slow chipping away at a person's self-esteem and self-worth. The impacts rippling far beyond the actual incident. As a whole, we need to be better to each other. Know that everyone has their own struggles and employ the Golden rule, "do unto others as you would have done unto you."
The need for bullying prevention never hit home, until I watched my sister's experiences through high school. Each day and in each class, she was taunted and her self worth was constantly challenged. She attempted to reach out adults and teachers with no real resolution. Eventually, the hate from the outside began to be turned inside. She began hurting herself because, why not, everyone else was.
Watching her struggle through this was painful. I felt completely helpless. If this was how I felt as an observer, I cannot even fathom the amount of pain she went through.
Eventually, high school ended and she was able to build up her self-esteem with her counselor, but these experiences impacted who she was/is. There are still many days that she needs to stop and remind herself to "stay strong and just breathe." She even tattooed part of her mantra on her wrist, so that if/when the hatred turns inside, she has a reminder of hope. I would like to pass the message on to those experiencing these same things in their own lives. Stay strong and just breathe. There is hope and each person is special with something to offer the world.
I am highlighting several books that truly get to the heart of the bullying issue and its extensive impacts. It was difficult to decide on only five books, so I have listed three honorable mentions at the beginning.
Honorable Mentions
Letters from the Inside by John Marsden
All the Rage by Courtney Summers
Sarah's Picks
Wonder by R.J. Palacio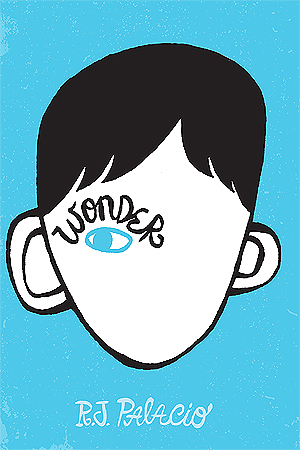 Auggie Pullman has had several surgeries to correct his physical impairments. Even after all of the hospital stays and difficulties, Auggie still doesn't look like everyone else and people stare at him on the street.  Due to his medical issues, Auggie has always attended home school, but this year his mother believes that his schooling is beyond her abilities. It is time for Auggie to attend school, where his courage and self esteem will be put to the test. Auggie's transition to a mainstream school effects more than just Auggie, himself. Using several perspectives, the reader sees how Auggie's friends and family members are also tested by this new experience. 
This heartwarming inspirational novel is one that everyone should read. It thoroughly explains the impact of bullying and also, standing up for who you are. This is one of those books that after reading I forced everyone else to read. This book gets it. Bullying happens through many ways and impacts many people. 
Rating: Yeti
 
Random by Tom Leveen


Tori was your typical popular athletic girl, but now she is on trial for killing one of her classmates. This classmate committed suicide because Tori and her friends constantly bullied and cyber bullied him. Tori firmly stands by the fact that her classmate's death is in no way her fault. Until, the night before her trial, she receives a call from an unknown number. The person on the other end is contemplating suicide and Tori is the only thing between his life and death. This interaction forces Tori to take a hard look at her past actions. She forced to contemplate the value of a life.
This is an interesting portrayal of a bullying from the bully' viewpoint. The main character becomes extremely frustrating, at times, because she is blinded by her true responsibility in the bullying of another student. Even if it wasn't her hand or her choice for the other student to commit suicide, it was her actions that reduced his self-worth to begin contemplating that choice. Tori was the most frustrating character, but the others were compelling enough to keep this novel going. 

Rating: Two Fairies

Send by Patty Blount
Dan has been fighting his bullying demons since he was thirteen. Dan was sent to a juvenile detention facility for the part played in causing another student to commit suicide. Trying to find a new start has become impossible, because his past always seems to find him. Dan isn't even quite sure he doesn't deserve all of the anger and bullying he is receiving because of his own actions. He has decided that no matter what, he will stay in the same school for his entire senior year. Attempting to stay under the radar and quietly hate himself for what he has done, Dan attends his new school. Yet, when he sees a student being bullied by another, he breaks up the fight and becomes a school hero. The contradiction between who he was and who he wants to become overwhelming.
This was an interesting perspective on the ripple effect that bullying can cause. It holds bullies and bystanders accountable. It gives hope for change and encourages those who would like to write off bullies forever the chance to allow them to change. I like the idea of second chances and redemption. 

Rating: Two Unicorns
Everybody Sees the Ants by A.S. King


Lucky has been bullied for the majority of his life. However, the bullying does not just effect Lucky, but his entire family. After a major incident at the local pool, Lucky's mom decides it's time to take a break from life and takes the two of them on a vacation to his uncle's house. It is in this retreat, that Lucky and his family are given the chance to reclaim who they are. They are able to heal and come to a place where they can stand up for themselves.
Characters are weird and Lucky's dreams of his grandfather keep the reader in an unsettled state. A.S. King provides the stark reality of bullying, without the cheesy good conquerors all crap. If you are looking for a warm fuzzy Disney storyline, this is not your book. Stick around, if you want a real, gritty, awesome book. I believe that the reality of this book is what makes it truly powerful and easy to connect to. The path to get to a place where you can stand up for yourself is bumpy and difficult.
Rating: Two Unicorns 

Drowning Anna by Sue Mayfield
I saved this one for last because I have included it as a nod to my sister. This is her favorite novel, because she can see so much of herself in the main character. I found it to be a profound view changing novel. It shows bullying in a horrifying, but real way.
Anna moves to a new school and begins as the popular, athletic new girl. However, another queen bee becomes jealous and has made it her life's mission to ruin Anna's life. The war against Anna includes social, verbal, and physical bullying. It simply becomes too much and Anna decides to end it.  Using differing perspectives, the shocked community comes to terms with the events that led to Anna's tragic choice.
This novel is heartrendingly realistic. I was sobbing throughout this book. It was cathartic though. See bullying experiences written across the page and coming through it. Do not forget your box of tissues and perhaps read with a friend, so that you have someone to talk with (I needed to process this with my sister, when I was reading it).
Rating: Two Unicorns