October is certainly a month that works to bring awareness to many serious issues. Today is national #spiritday, which works to promote anti-bullying. However, the main focus of this entry is to talk about domestic violence, which is emotionally or physically violent behaviors against a spouse or significant other. YA books truly take on the issues of our society, showing them from all perspectives. When selecting five books to represent the gambit of this issues, I continuously grappled with the thought of including the classic/infamous Twilight series. Edward and Jacob exhibit extremely violent and abusive behaviors, which stem from constantly watching over Bella and grow to worse actions as the series progresses. However, I wanted to focus this book list on other, perhaps lesser known, novels which consciously add to the conversation about domestic violence awareness.
Bitter End by Jennifer Brown
This perfect love story soon becomes twisted by dating violence. Cole is the new boy everyone is obsessed with. All the girls want to date him and all the guys want to be him. Alex catches his eye and the two fall madly in love. Cole's attentiveness soon becomes obsessiveness. He becomes increasingly jealous of Alex's male friends, begins to frequently text and check up on Alex, as well as, he continues to become more physically violent with Alex. In the beginning Alex could pass off Cole's behaviors as random occurrences, until things begin getting out of hand and she can't find a way out.
Jennifer Brown is the queen of issue fiction. Ripping stories from the headlines and teasing them out. She presents the concepts of dating violence, shows readers that this does happen, and points to warning signs. This novel truly provides a foundation for this issue.
Falling for You by Lisa Schroeder
Rae's stepfather is an abusive jerk who takes all of her money. Her mother is completely checked out and no help. Rae can only find solace in her friends at school, her coworkers, and possibly Nathan, a new kid who is showing romantic interest in her. The two begin a romance, yet he becomes increasingly more possessive. When Rae seeks out her friend Leo for an ear to listen and a shoulder to cry on, Nathan's jealousies are pushed to the limit. Rae also uses poetry to talk about her feelings. Even though poetry helps release her emotions, she still keeps much bottled up– her friends don't really even know her. If only she could have found more support or been more open with Leo, she may not be fighting for her life in the ICU.
The concept was great. There was just so much working against the main character, with no real options of resolution. However, it plays into the reality of how some people feel within this situation. I found myself getting wrapped up into this story to the point that I screamed at this book like I scream at talk shows on tv. This book was rough for me to read at times, because it was hard for me to understand why Rae would stay and allow people to treat her this terribly. However, these relationships are out there and hopefully books like these can point out the sickness in those relationships. Ultimately, it is my hope that those in those relationships will be able to find the strength to get out. 

Half Bad by Sally Green

This novel deviates a bit from the domestic violence theme, but still holds to the abuse. It is a prime example of how even the cycles of abuse can even bleed into fantasy novels (beyond Twilight).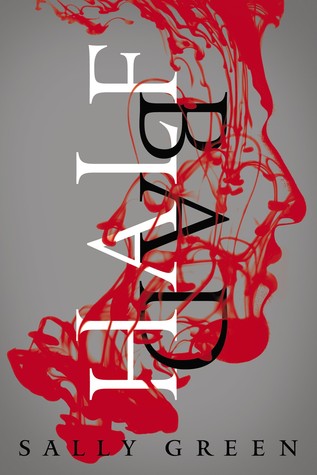 Nathan is half white witch and half black witch, which ostracizes him from white society. Think racial tensions circa south 1950s/60s and you are on the right track for Nathan's experiences. The white witch's council continues to restrict Nathan's rights and movements, eventually caging and abusing him. If Nathan wants to survive he needs to find someone to complete his giving ceremony, but who?
It was a compelling audio book. This tense fantasy book is set in modern England and provides a new perspective on wizard society. Nathan was never really given the chance to come to terms with the life he spent within the cage, but it was that part of his life that truly changed who he was and what he was willing to accept. 

Tender Morsels by Margo Lanagan


I am going to preface this selection by stating that I absolutely could not stand this book. It may be a Printz Honor, but man am I disturbed by the amount of violence found here. I think the mixture of magic (psychotic break) and reality true messed with my ability to connect to the book. However, it truly takes on the issues of domestic and sexual violence. Plus, Becky and I have decided that we should probably include novels that we don't like, just to add some variety.
Whoa-kay, within the first 100 pages you will find incest, a gang rape, and several bloody abortions (and it only gets worse from there). A 15 year-old girl is forced to deal with some terrible things. Ultimately, she is magically sent to live within her idea of heaven, where she can peacefully raise her two daughters. Eventually the real world crosses into the dream world, which causes a rift in the space time continuum and other horrible things.
The novel was beautifully written, which certainly helps propel the reader through. However, it is not something I would easily recommend to a teen (certainly not a young teen). The events are raw and horrific. It is a book with rough subject-matter and is not something that can be easily read.
Breathing Underwater by Alex Flinn


You know those books that change your entire perspective on life, this was one of those book for me. The reader begins to get to know Nick in his anger management class. Something terrible twisted in his relationship with Caitlin, and now she has a restraining order against him. There is no way this beautiful popular boy could do anything so wrong as to warrant this forced separation from his girlfriend, right? Things aren't always as perfect on the inside as they appear on the outside. Nick is living within his own world of abuse from his father and now the cycle has begun again in him. He must work through his own emotional challenges in order to heal and move forward.
Alex Flinn is just awesome. Her fairy retells were great, but when I realized she wrote this book as well, she achieved expert status. This novel really takes you into the mind of the abuser. The reader never makes allowances for the terrible things that Nick has done, but a sense of empathy does arise along with hope for change. In knowing, that no one is damaged to the point of not being able to rise above their raisin' and misdeeds from the past.