Hi All!  Today is the spookiest day of the year and we at Bickering Book Reviews decided to share with you a list of books that may bring you chills and make you sleep with the light on.  We hope you enjoy!
Becky's List:
Welcome to the Dark House by Laurie Faria Stolarz
Everyone has a nightmare; the thing that keeps you up at night and makes you leave a nightlight on.  Ivy Jensen lives in constant fear of her parents murderer; the man who came into her home and killed everyone but her.  Ivy is trying to get over her past so when she finds a contest being sponsored by the biggest horror movie director in the world she uses her nightmares to win a spot in the Dark House.  What Ivy doesn't know is that the contest isn't what it seems and not all the contestants are going to survive their worst nightmares.  Part horror book and part psychological suspense Welcome to the Dark House is completely terrifying.
Jasper Dent Series by Barry Lyga
Barry Lyga's series isn't exactly horror but it does show how sometimes the biggest monster is actual the most human.  Jasper Dent was raised by his father, Billy Dent,  the most charming, charismatic man in town who just happened to be one of the most prolific serial killers of all time.  Billy has one simple goal in life: turn Jasper into the next generation of killer.  When Billy is sent to prison Japer was able to avoid his father's plan but when a body is found in Jasper's small town he must step inside the head of a psychopath to stop a murder and prove his innocence.  This series is just unbelievably awesome.  It is the perfect blend of creepy and disturbing that makes the entire series a must read.
Bad Girls Don't Die by Katie Alender
Alexis always knew her life was dysfunctional.  Her parents fight, her sister, Kasey, is obsessed with dolls, and she doesn't really fit in at school.  Then one day Kasey begins to act odd: the way she speaks change, her eyes change color, and she becomes threatening.  Is it possible Kasey is just growing up or is there something sinister involved?  This was the Alender's first novel and it proved that she is a master of the ghost story.  All of her books blend horror and realistic fiction beautifully with real life teen aghast juxtaposed beautifully with  haunted houses and possessed totems leaving the read with an unnerving feeling of "that could really happen".  Bad Girls Don't Die is just a creepy, spooky good time.

The Name of the Star by Maureen Johnson
Rory Deveaux has just been transplanted from her small hometown in Louisiana to a boarding school in England.  However, a new school isn't the biggest worry in Rory's life…after nearly choking to death on her first day at school Rory can see ghosts.  Rory's doesn't mind her new power until suddenly bodies start turning up without any signs of the killer left behind.  Plus, the murders look familiar…very familiar… the murders look just like the those committed by one of the most famous murderers in London's history.  Is it possible that the killer is the ghost of Jack the Ripper?  I love Maureen Johnson's writing.  Her book Thirteen Little Blue Envelopes is still one of my all time favorites.  Plus, I love all stories about serial killer in particular Jack the Ripper. When I add up all the pieces of this one it's basically perfect.
Sisters of Blood and Spirit by Kady Cross
Lark and Wren are twin sisters and best friends.  They have spent their whole lives doing everything together.  They are the perfect sisters except Wren is dead.  She was born that way but Lark has always had a connection to her sister's ghost.  A connection that gets her labeled as "The Crazy Girl" because she talks with a girl no one else can see.  In a moment of desperation Lark decides to join her sisters in death but Wren isn't will to let her give up.  Wren finds, Kevin, a teen who can sees ghost and is able to save Lark and needs her help to save his friends from a dark spirit who has targeted them.  This was just a great ghost story.  There is a bit of a romance mixed with evil spirits and a pinch of sassy female characters which makes it a great read.
Sarah's Picks
Coldest Girl in Cold Town by Holly Black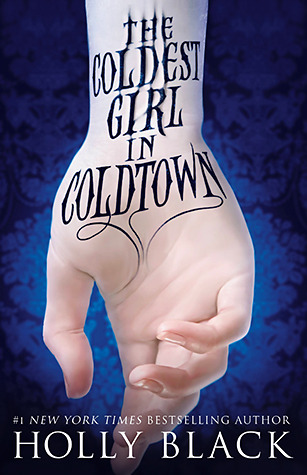 YAY! Real vampire books. These are not your tweenie-boppers glittery vampires. These vampires eat, infect, and kill you. Vampirism is a disease and towns have been quarantined off to stop the spread of the disease.
After waking up at a party, where everyone has been massacred by vampires, Tana goes on an adventure with Aidan, a recently infected ex-boyfriend, and Gavriel, a really hot vampire. The group heads for the nearest Coldtown, or quarantined town, to help keep the infection under control. This trip forces Tana to confront her darkest fears.
 
Of the novels I have read by Holly Black, her classic horror stylings are fantastic.   The treachery, plot and characters kept me on the edge of my seat the entire time. I listened to the novel and simply couldn't stop, so I alternated between print and audio.
Unbecoming of Mara Dyer by Michelle Hodkin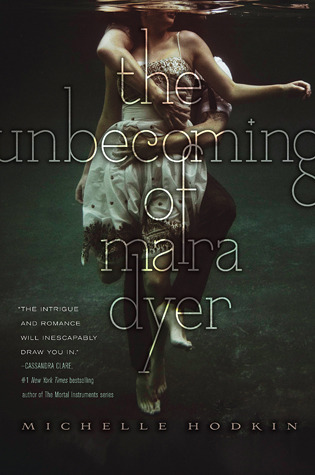 Mara Dyer's best friend, boyfriend, and his sister have all died. She was the last one to see them and the only one who really knows how their death occurred. However, she can't remember that night or the events that led up to that night.
Mara is being haunted by her dead friends. She convinces her family to move away, in hopes of alleviating the haunting. However, her problems follow her. Now, at her new school with her problems getting worse and a new boy who won't leave her alone, Mara is forced to face what happened to her friends..
This novel was compelling, very much like the Rosemary Clement Moore books-only more Gothic and less funny (not in a bad way). This author is the master of double entendre. Its witty and subtle humor is refreshing.  I love creepy little crooked Mara with all of my crooked heart.
Through the Woods by Emily Carroll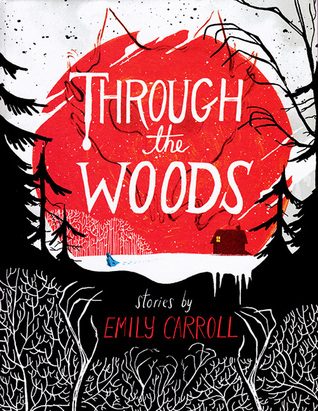 Graphic novel with five stories about things that go bump in the night. Scary things come from the woods and this graphic novel shows you the depth of them. This book remind me of a Grimm's fairy tale book, but with an Emily Carroll twist.
The art was awesome, but the stories were lacking. I really liked the stories, if only they were developed more. Art=awesome, I have high hopes for the development of the author's writing. It is a perfect creepy scary book to lull you to sleep on a Halloween night. 

The Screaming Staircase by Jonathon Stroud
 

In this book, ghosts are real and they can kill you. However, only children have the power to see and fight the ghosts. Lucy, Lockwood, and George are a paranormal team that take on local paranormal cases. After setting fire to their last customer's house, Lockwood and Co. needs to come up with a large amount of money to pay for damages. The team takes on a house with a body count that continues to rise. Will they find the source and make it out alive?
 
This book is great for young teens. It reads similar to Scooby Doo, but is a bit scarier. The characters were fun and funny, mixed with the right amount of paranormal. 
As I Descended by Robin Talley


This is a modern day retell of Shakespeare's MacBeth. The story opens with a Ouija board scene and the promise of wish fulfillment and death. Maria has seen ghosts since she was little and when her girlfriend Lily wants to play around with the otherside, the two play with an antique Ouija board, while their best friend Brandon writes down the messages. This event kicks off the terrible events follow. Maria and Lily know that those ghosts will help them get all of the popularity and power they ever wanted, but first they need to get Delilah the golden girl out of the way. The path to power was never pretty and this book proves it. 
I love Robin Talley's writing. She draws me in from the first page and I simply have to know what is going to happen next. Her books have LGBT themes, but they aren't the point of the book (yay for rejecting heteronormativity). I haven't completely finished the book yet, but the body count is rising and I need to know who gets axed next!