Happy November!  November is one of my favorite months. It's filled with fall leaves, college football, and Thanksgiving.  It is also filled with many, many wonderful new books that we, of course, just have to share with you.
Becky's List:
A Million Worlds with You by Claudia Gray

I think I have enjoyed every book I have read by Claudia Gray.  I loved her vampires at boarding school books, I got sucked into her werewolves on the Titanic book, and I was addicted to her witches in New England series but her Firebird Series is definitely my favorite.  Marguerite Caine's has been pulled into a mystery that spans hundreds of universes.  She maybe the only one able to stop the evil Triad Corporation in their mission to manipulate space and time for their own advantage.   Joining Marguerite on her mission is the adorable and brilliant Paul who loves her in every world but who was left emotionally damaged after Traid's last attack.  Can Marguerite stop Triad and save not only her world but that of hundreds of others?  So, basically I'm all fan girl over this series.  I love artist Marguerite who is sassy and originally, I adore Paul with his brooding nature and love for a girl he didn't think he would ever get, and I'm totally hooked on their intergalactic adventure.  This is the last book in trilogy and I highly recommend the whole series.

All in Pieces by Suzanne Young
This book might just have everything I love in a good realistic fiction.  We have Savannah, a sassy All in Pieces gets move to the top of my to-read list.
teen, who is trying to protect her brother.  We have family drama that includes a dead mom and an alcoholic dead.  We even have a school for teens with issues that just promises to be awesome.  Plus, there is the dreamy boy who want to help Savannah get over her issues.  Yep, everything sounds awesome then add Suzanne Young who always brings her A-Game writing and you've go a perfect family drama for the holidays.
Trouble Makes a Come Back by Stephanie Tromly
This may be weird but I don't really like mysteries but I like detective stories.  I know it's weird.  I think the part that I like is the actual through processes of someone who is trying to solve the mystery but I don't actually care about the mystery.  Last year, I read Trouble is a Friend of Mine, a delightful book in which Stephanie Tromly introduced the world to Phillip Digby who is part Dr. House and part Sherlock Holmes and completely brilliant. This time Zoe and Digby are investigating a illusive billionaire who may know something about what happened the night Digby's sister disappeared.  Oh, I can't wait for the action, mystery, and droll come backs!
This is Our Story by Ashley Elston

Now is time for my November confession…I am one of those crazy rabid Veronica Mars fans; like I totally contributed to the Kickstarter campaign and proudly wore my Veronica Mars tee-shirt to the movie theater for the first showing of the movie the day it opened and I might have the entire tv series and the movie on DVD.  So color me intrigued when I came across "This is Our Story" which sounds like it could be the scrappy young relation of Veronica.  The story is about the possible murder of a teen boy who went on a hunting trip with four of his friends and never came back.  His case catches the attention of highschooler Kate Marino, is an intern for the District Attorney's office, who has an attachment to the murdered boy and who wants to find out what happened in the woods.  Yep, all that sounds awesome but when you factor in the books tagline "Five went in. Four came out." I'm officially dying (no pun intending) to read this one.
Dead Girls Society by Michelle Krys
This one just sounds like a rollicking good time.  Does it have a cool setting? Is New Orleans cool enough for you because it is definitely one of my favorite cities?  Does it have a intrigue? Is a SECRET SOCIETY as ingraining to you as it is to me?  Does it have a sassy female lead?  The main character Hope who is sick of being babied because of her cystic fibrosis seems super sassy to me.  Is there the possibility of a dreamy love interest.  Hmmmmm….I'm not sure about this one but Hope's best friend Ethan may be able to fill that role.  I'm ready to find out "Dead Girls Society" is the good time it promises to be.
Sarah's Picks
Here are my short and sweet picks for November. It is finals week for me, so fingers crossed that I pass all of my classes and can get back to reading again.

Scythe by Neal Shusterman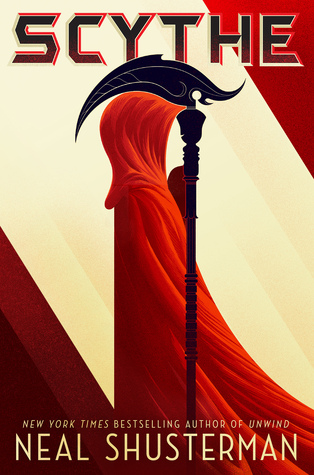 Who doesn't love books about teens trained to kill one another in some warped dystopian society? Things become so much more interesting when a life hangs in the balance. Scythe is a world where death through natural means does not exist. The only way people can die is if they are killed by professional reapers. Citra and Rowan are training to become the next reaper. Only one will survive in the end. This novel sounds like a combination of Giver and Hunger Games, with a chilling Shusterman twist. Shusterman's Unwind series is my favorite of all time, simply because of the plausibility of the society he created. I am hopeful that this author will offering something just as real in this book.
 
The Door That Led to Where by Sally Gardner


Like detective mysteries, like time travel, ever failed at something, AJ Flynn is just the character you need in your life.  After failing important school exams (I am assuming the British version of the SATs), AJ takes a position at a local law firm. While there, he discovers a key that opens a door to the past. AJ and his friends travel back to 1830, where they take advantage of the times and solve mysteries. Like Maggot Moon before it, I expect this Gardner novel to be an overwhelming mix of gritty reality and magic.
The Boomerang Effect by Gordon Jack


I was first compelled by boomerangs and the viking on the cover, but as I continued to read the description, this book started climbing in my TBR pile. Lawrence Barry is tasked with mentoring a Norweign exchange student, Spencer Knudson, so that he can graduate. Barry is not going to let one off-kilter exchange student ruin his senior year. Until things start going haywire around the school, and Knudson becomes the only person Barry can count on. This sounds like a great guy home adventure novel, in the vein of Going Bovine, complete with LARPing. Bring on the nerds!
Fate of Flames by Sarah Raughley


A new fantasy series coming down the pipe. Throughout time, four teenage girls have been given the power of the elements and tasked with protecting the world. When one of the four dies, another is upholds her power. As time progresses, their power usage becomes less altruistic and more self-serving. These out of touch girls are given a shake, when a new fourth appears. Yay, time to kick butt and save the world!
Until I Break by Kara Bietz


A story of bullying that progresses to the ultimate violent act of school shooting. Two boys with promising futures have secrets that are eating them alive, can anything be fixed in time to stop or interrupt the violence that is about to occur?