I can't believe that we are already a month into the new year!  I hope 2017 is treating everyone well and you're not being pummeled by too much snow.  To help you enjoy 2017 here is a list of book coming out next month that we are very eager to get our hands on.
Becky's List:


Long May She Reign by Rhiannon Thomas
Freya was a scientist.  She was never supposed to be Queen.  However, after a disastrous banquet Freya, who was twenty third in line for the throne is Queen.  Now Freya is in danger.  The nobles don't want her on the throne, her advisors want to control her and there maybe someone trying to kill her.  Can Freya discover who killed the former King in time to save herself?
This book has everything that makes my nerdiness happy.  Palace intrigue, murder plots, and a possible romance…my heart is all a twitter.  Plus, I love Thomas's "A Wicked Thing" so I have high hopes for this one.
To Catch a Killer by Sheryl Scarborough
Erin Blake is famous but not for anything she wants.  Erin is famous for surviving the grisly murder of her mother when she was toddler.  Erin spent three days with her mother's body before she was found.  Now Erin is an (almost) normal teen being raised by her mother's best friend.  But her life changes when she discovers the body of her murdered teacher.  Erin is convinced that her mother's murder is back but all the evidence is pointing to Erin.  Erin must team up with her crush/fellow suspect to try to solve the murder to clear her name and maybe save her life.
Um…this just sounds awesome.  It's a murder mystery filled with intrigue and unrequited crushes.  I have high hopes for this one and I think it's going to surpass my expectations.

A Good Idea by Cristina Morocco
Finn and Betty were best friends.  They stayed friends even after Finn's family moved from Maine to New York City.  They planned to be roommates at NYU in the fall.  Then Betty disappears.  Her ex-boyfriend confesses to drowning her but his confession is thrown out and Betty's small town neighbors believe that she just ran away.  Finn knows that not true and she is going to spend the last summer before college finding the truth.  But some secrets are buried more than others and Finn may not be prepared to uncover the truth of Betty's disappearance.
This just sounds like it's going to be a compelling read.  There is a small town cover up and murder that may or may not have happened.  I'm looking forward to uncover all the secrets of this small town.
Sarah's Picks
#famous by Jilly Gagnon
Release Date: February 14th


Rachel was totally crushing on local cute guy, Kyle. After taking a sneaky photo and posting it to the novel's version of Twitter, both Rachel and Kyle go viral. While Kyle is sweeping the nation and visiting talk shows because of his cute picture, Rachel is dealing with some serious virtual and IRL bullying. 
I have hopes for this novel, especially because I have an eARC through Edelweiss. Here's hoping I can make it through this teen drama.  
American Street by Ibi Zoboi
Release Date: February 14th


Fabiola immigrates to America from Haiti, but her mother is detained at the border. Life has been completely turned around and Fabiola is forced to make tough choices. This novel seems very appropriate for the current American climate. I do have to admit that I was totally drawn in by the cover, I mean look at that beautiful cover!
Stranger Than Fanfiction by Chris Colfer
Release Date: March 7th (oops, I totally messed up the date)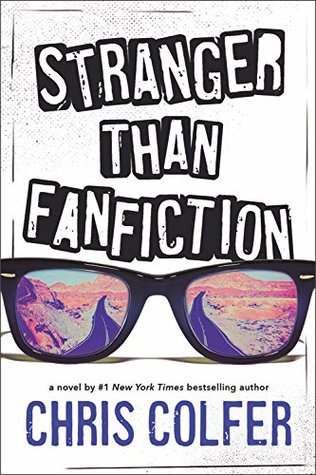 So that Glee kid (I say this like I didn't regularly watch Glee, not) is taking the reading world by storm. I get asked multiple times a week for his middle grade series, Land of Stories, which I will read…eventually. I think this new teen book is a perfect reason/excuse to give this author a try.
This novel is the story of a teen television show celeb crashing a cross country trip with a group of teens.  Turns out the celeb isn't what they thought and his life isn't as dreamy as they had imagined. I am assuming there will be love triangles and miscommunication fights. I am also hoping that this isn't Colfer's way of telling a story about himself, but not really…but, yes really. I am ready to take the leap though.