I received an eARC through Edelweiss in exchange for an honest review, which also means that I got my hands on this novel early, woot! Marin can cook, sometimes she just doesn't. However, when she does it sounds delicious. I was salivating over the quesadillas she made for Mabel. I found this great recipe through the Food Network for Sunny Anderson. While I like quesadillas with cheese, chicken, corn, beans, and sour cream, this recipe kicks it up beyond that. Visit this link for the original recipe http://www.foodnetwork.com/recipes/sunny-anderson/southwest-quesadilla-with-cilantro-lime-sour-cream-recipe.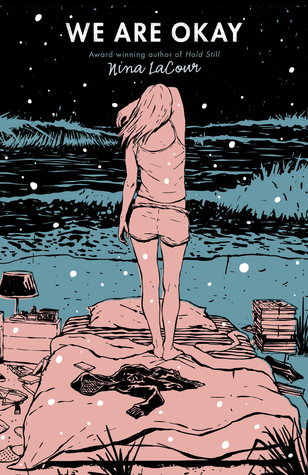 We Are Okay by Nina LaCour
Marin lost her mother when she was young, never knew her father and lived with her grandfather until her senior year. This book flashes between present day and the summer before Marin left for college. In present day, her grandfather is gone and she has isolated herself from her best friend and other important people in her life. She is attempting to live on at college in New York after several shocking things that occurred around her grandfather's death. Marin is staying at her dorm, alone, over the winter break. Her best friend Mabel is stopping by for a few days and the two must come to terms with what their relationship has become and how to move forward.
The novel flashes back to the summer after senior year, when Marin and Mabel begin discovering feelings that are more romantic than just friends. It is also through this perspective that Marin faces her relationship with her grandfather and their shared grief.
This was a quick emotional read. I liked the relationship progression between Mabel and Marin, many parts of it felt real. However, I was struck by the lack of growth in the main character, though. I did appreciate the ending. Many of the actions of surrounding characters weren't fully fleshed out or tied in. I would have liked to know more about Claudia and Toby. Their roles could have flowed better without seeming like random occurrences. I also don't think the shell thing was fully fleshed out. All in all, it was a solid book.
Sunny Anderson on the Food Network Southwest Quesadilla with Cilantro-Lime Sour Cream
2 tablespoons olive oil, plus extra for griddle
1 small red bell pepper, diced
1/2 red onion, diced
3/4 cup corn kernels, (about 1 ear)
2 teaspoons red pepper flakes
1 teaspoon ground cumin
Salt and freshly ground black pepper
1/2 cup freshly chopped cilantro leaves
Four 10-inch "burrito size" flour tortillas
One 16-ounce can refried black beans
1 cup grated Pepper Jack cheese
Lime-Cilantro Sour Cream, recipe follows
 Lime-Cilantro Sour Cream:
1/2 cup sour cream
1/4 cup freshly chopped cilantro leaves
1/2 lime, juiced
Pinch salt
In a large skillet, heat oil over medium-high heat. Saute red pepper and onion until soft, about 5 minutes. Add corn, red pepper flakes, cumin, and salt and pepper to taste. Toss to incorporate and saute for 3 minutes. Transfer to a bowl and add the cilantro. Preheat a long, 2-burner cast iron griddle, or a large saute pan over medium heat. Lay 2 tortillas on a work surface and spread each evenly with refried black beans. Place tortillas, bean side up, on the griddle (begin with 1 if using a saute pan). Sprinkle onion-red pepper mixture evenly over the top of each, then sprinkle evenly with the cheese. Cover with another tortilla coated with refried black beans and cook until cheese melts, about 4 minutes. Flip quesadillas to toast the other side. Slice each quesadilla into 8 wedges, sprinkle with cilantro, and serve with Lime-Cilantro Sour Cream.
Lime-Cilantro Sour Cream:
In a small bowl, mix all ingredients together until combined. Season, to taste, with salt if needed.
Recipe courtesy of Sunny Anderson, 2009
Visit the following website for the original recipe http://www.foodnetwork.com/recipes/sunny-anderson/southwest-quesadilla-with-cilantro-lime-sour-cream-recipe