I know we like to focus on newer books around this time of the month, but I feel that I would be remiss if I didn't give a shout out to Shusterman's new series. I loved his Unwind series, like passionately flinging those books into every person's hands ever, so my expectations for this novel may have been a bit unrealistic. Needless to say it wasn't as great as I had hoped, but it does speak to Shusterman's craft as a writer.
Scythe by Neal Shusterman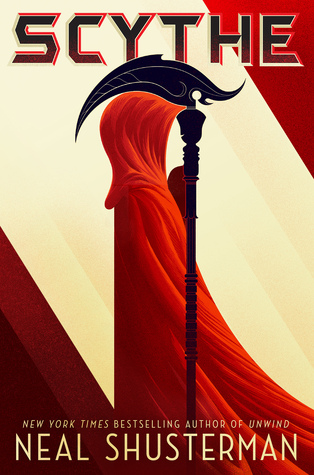 In the future, humans have discovered the secret to everything. A global computerized entity controls everything and ensures that humans can without hunger, disease, and any typical problems. However, to combat over-population, because people have overcome natural death, a sect of society called Scythes have been created to glean or kill people. Citra and Rowan have caught the notice of a local Scythe and he has taken them under his wing to train them in the art of being a scythe. The two are competing for the one slot, with deadly consequences on the line. This novel soon morphs into political intrigue and deadly training.
I still don't know how I feel about this book. There are others very similar to it that are better, but this was intelligent. There were several keen concepts presented in the book. I feel that if certain things were better developed I would have been blown away by this novel like his others, but it was difficult to connect to the characters and stories. This is especially true because there is some un-nameable something that bothered me about the basic premise of this book, something that felt unbelievable. Maybe as I explore the other books I will be able to pin-point it better. Perhaps the un-nameable something is the need for more editing/a better editor.