Happy March everyone!  Winter may be winding down but there are still plenty of cold days left…cold days that are perfect to curl up with a good book.  Here is a list of new books that are being leased in the next month that we can't wait to read!
Becky's List:
Vigilante by Kady Cross
Release Date: March 28
Hadley and Magda were best friends then Magda was attacked at a party and her attackers get away without being punished.  Magda is tormented by her attacker until she decides to take her own life.  Now, Hadley is going to get her revenge.  She attacks each of Magda's attackers, while wearing a pink ski mask, stripping them of their dignity and avenging her lost friend.
This just sounds kind of awesome and filled with Girl Power.  It's reminiscent of Mindy McGinnis's "The Female of the Species" which was compelling and gives "Vigilante" big shoes to fill.  Plus, I love Cross's YA sci-fi so I have high hope for this one.
Just Another Girl by Elizabeth Eulberg
Release Date: March 28
Hope thinks there is only one thing standing between her and her long time crush, his perfect girlfriend Parker.  Parker doesn't think she's perfect.  She has to work to fit into everyone's expectations.  The relationship between the two girls is examined and changes as they learn about life on the other side of the divide.
I am a big fan of Eulberg.  Her characters are always wonderfully well written and her plots are quick and believable.  I would add this book to must read just because her name was on the cover but adding the fabulous description this book is definitely a must read.
Secrets of a Reluctant Princess by Casey Griffin
Release Date: March 7
Adrianna Bottom is the star of her high school.  Is is loved just like she always wanted except it isn't what she thought it would be.  Then there is Kevin, the adorable sketch artist, who Adrianna interacts with through LARP-ing.  Kevin would never want Adrianna if he knew who she really was but that doesn't stop her from developing a crush on him.  Can Adrianna keep her place in the high school hierarchy and get the boy she likes?
This book looks perfectly fluffy and drama filled, just like I like 'em.  Here's hoping it's one of those perfectly cheesy teen romance that always delivers just the right amount of love and angst.
Sarah's List
GAHH! There are so many books that are coming out and I don't know if I will have time to finish them.  This month my class in children's lit has started, so I am trying to finish near 100 birth-middle grade books. However, I still have to find time to read the books I actually want to read, right?! I brought my list down to three books and simply chose the books I have already marked as TBR.
A Psalm for Lost Girls by Katie Bayerl
Release Date: March 14th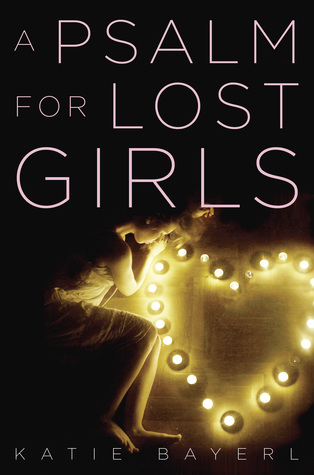 Callie's sister, Tess, was the perfect person when she was alive and her untimely death has incited her town's quest to get her sainted. Callie is upset by the misrepresentation of her sister and uncovers more and more secrets about her family and sister. In addition, after Tess's death, a missing girl, Ana, reappears at one of Tess's shrines. How perfect was Tess, really?
This novel sounds equal parts mystery and heart wrenching drama. I like the concept of honoring the real person who has died, instead of the ideal.
The Hidden Memory of Objects by Danielle Mages Amato
March 21st
So, here is my second pick that deals with the death of a sibling.  Megan uses her talent with art to explore the issues surrounding her brother's death. While many believe he died from suicide, she cannot accept that answer. I am hoping for a multimedia experience with some serious emotions.
The Heartbeats of Wing Jones by Katherine Webber 
Release Date: March 14th 
I already have an eARC of this novel through Netgalley, so I can't wait to get started on this book. Here is another book that talks about death in relation to a sibling. I am taking on the serious subjects this month, well that and we just reviewed Tragic Kind of Wonderful (which is also in the same vein). This novel is about Wing's brother's decision to drive drunk, which results in a deadly car accident. Wing and those around her must come to terms with the fact that perhaps her brother isn't as perfect everyone always believed. This book sounds equal parts emotional and romance on the side.  Plus, the cover is compelling as all heck.