Happy Almost October!  Can you believe that fall is almost upon us?  We think the best way to combat the impending cold weather is with hot new books. Here is a few that we're looking forward to that are being released next month:
Becky's List:

Kingdom of Ash by Sarah J. Maas
Release Date: October 23
Anyone who knows me knows that I am willing to read anything Sarah J. Maas releases (seriously, I would read her grocery list if Bloomsbury published it) so I am beyond excited about the upcoming release of the last book in her beloved Throne of Glass series.    There are so many questions that need to be answered.  Will Aelin take back her throne? What will happen to Chao?  Will Dorian finally get a happily ever after?  Will everyone get to live?  These are things I need to know and I can't wait to read this book.
The Lady's Guide to Petticoats and Piracy                          by Mackenzie Lee
Release Date: October 2
Mackenzie Lee's The Gentlemen's Guide to Vice and Virtue was one of my favorite audiobooks of last year.  I have high exceptions to this companion story about Monty's sister Felicity trying to accomplish her dream of becoming a doctor.  I am hoping for adventure, mystery, and many many inappropriate jokes.
The Geography of Lost Things by Jessica Brody
I have a special place in my heart for road trip books.  I loved Amy & Rogers Epic Detour, I still recommend Two-Way Street all the time, and Paper Towns is probably my all time favorite book.   All of that is to say, that I am super excited for Jessica Brody's new book about Ali who is dealing with the death and her father and must enlist her ex-boyfriend, Nico, to help drive her father's firebird 300 miles to sell it.  It should be a romantic and drama filled good time.
Sarah's List
Blended by Sharon Draper
Release Date: October 31, 2018
Isabelle's parents are divorced and she is forced to spend half the time with each parent. Isabelle is both African American and white, the time she divides between her parents further highlights her different identities. Isabelle questions her place in the world. As she struggles with her own concept of identity, racial tensions and police brutality create more conflict for Izzy's understanding of the world.
West by Edith Pattou
Release Date: October 23, 2018
I am super excited about this book! I loved the first book in this series, East. It came out ten years ago, so I will probably need to reread it, but I am totally good with that. I love shifters and this series started with a werepolar bear. Rose and Charles are torn apart again. While everyone thinks he is dead, Rose won't believe it and will stop at nothing to find him again. *squee*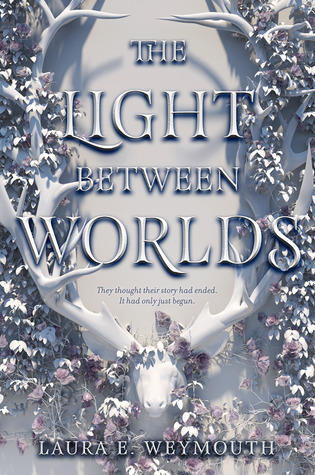 The Light Between Worlds by Laura E. Weymouth
Release Date: October 23, 2018
While Evelyn and Philippa were waiting out danger in a bomb shelter in London, they were transported to fantasy realm. When the two return, nothing has changed in the real world, but the girls. Ev is desperate to go back, while Philippa is determined to stay and move on. When Ev goes missing, Philippa must take a hard look at what true happened agter they returned.