Hiya everyone, it's Sarah!
I am surrounded  by theater geeks (not that it is a bad thing), but I have never crossed into that world. I am vaguely aware of popular Broadway shows, like Hamilton and Dear Evan Hansen, but I do not have a die hard love or knowledge of the music, actors, or like anything. I get that people do, it just ain't my thing. At BEA this year, the novelization of Evan Hansen was one of the must publicized ARCs/books. At the time, I didn't want to wait in the excessively long lines. However, when I got back, noticed the eARC on Netgalley, I thought I would give it a try.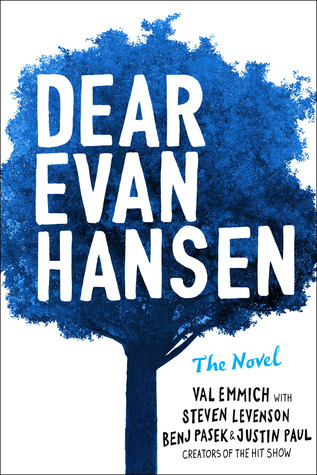 Summary:
As part of his mental self-care, Evan's therapist has tasked him with writing letters to himself with a positive twist. Instead of getting stuck within an anxious negative mental loop, Evan is to use the letters to create an optimism about his life. It can be super difficult generating these letters because Evan has no friends, the girl he likes barely knows he exists, and her brother, Connor, has made it his mission to bully Evan (ish). After writing one truly telling letter, Connor intercepts it and takes it away from Evan. Later that night, Connor commits suicide and his family believes that Evan and Connor were super close based on the letter. At first, Evan doesn't know how to come clean to the grieving family, and soon he enjoys the attention of the family and the romantic potential with the sister. Is there any way out of this situation without imploding everything?
Review:
I had no idea what this was going to be about before I started reading it. I didn't realize that it would delve deep into mental health challenges, I thought it was a coming out story. This book/play is  mentally difficult, but clearly addresses issues surrounding suicide. I don't think I was as interested in the characters or plot as I would have been if I had seen the show or been obsessed with the soundtrack. I think some of the songs were peppered throughout, but without having that background knowledge, I have no freaking clue. I think your theater geeks are going to go gaga over this book, but I think to truly enjoy this book you need a familiarity with the play.
Rating: