Hey everyone, it's Sarah!
This graphic has been making waves throughout the literary world because it was recently a finalist for the National Book Award. Also, my YA book discussion group selected it. I have read this novel twice, both times in ARC form, which I received from the publisher in exchange for an honest review.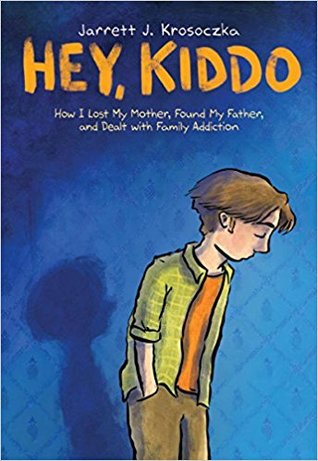 Summary:
In this graphic memoir, Jarrett Krosoczka explores his life growing up surrounded by addiction. His mother struggled with heroine, which landed her in and out of rehab and jail. Jarrett was sent to live with his maternal grandparents, who also struggled with their own alcohol addictions. Kroscozka was able to use his drawing as an outlet for his feelings. It also fostered his only real connection with his mother.
Review:
This graphic novel used line drawings in conjunction with a brown and grey color palette. Visually, this work would appeal more to adults than youth readers. This confusion in audience is furthered by the subject and layout of the story. To fully understand this graphic novel readers will need to read between the lines. For example, it is probable that Jarrett's grandparents were physically abusive towards one another, though it is never directly stated. Even though teens may pick up on many context clues, it is the adult readers who will have a greater understanding and appreciation. It should be commended that this novel does provide a mirror for children living in an environment of addiction. Yet, this graphic novel does not provide a complete exploration of the characters or environment.
Rating: