Hi All!  We have finally said goodbye to the winter doldrums and the warm weather has found even us in the midwest.  We think there is no better way to celebrate nice weather than with some hot new releases.
Becky's List
The Confusion of Laurel Graham by Adrienne Kisner
Release Date: June 4

Dear Rachel Maddow was one of my favorite surprises of last year so I'm super excited for her follow-up novel.  Laurel Graham has one goal to be a world renown birder and nature photographer but Laurel's dreams are put on hold after her grandmother is in an accident.  Laurel must now decide what is most important to her and what she can do to save her dreams and her grandmother.  This book sounds like it may be a major tearjerker plus that cover is just gorgeous.
The Paper & Hearts Society by Lucy Powrie
Release Date: June 13

This is a book about books!  I LOVE those kind of books.  Lucy is a book nerd kind of girl.  She's never really fit in until she makes friends with The Paper & Hearts Society where she get to partake in Jane Austen themed parties and possibly fall in love with Henry.  This one sound super cute and I am looking forward to it's nerdy swoony-ness.
Technically, You Started It by Lana Wood Johnson
Release Date: June 25

Anyone who knows me knows that I love me a good rom-com and Lana Wood Johnson's newest movie sounds like it may be the romcomiest of the romcoms.  The book is about Haley who starts a texting relationship with Martin Nathaniel Munroe II.  Martin gets Haley in a way that no one else does.  There's only one problem.  Haley knows two Mating Nathaniel Munroe II and she's not sure which one she has been texting.  Um…sounds delightful and I must read it.
Sarah's List
I was actually super hard to choose which books I am looking forward to the most, especially now that I have started reading a few of the June releases. I will save the gems I have already started reading, for more in depth blog posts later.
All of Us with Wings by Michelle Ruiz Keil
Release Date: June 18th
This book has been on my radar for awhile now. It is one that the Edelweiss has recently started to feature. Xochi becomes the governness for the daughter of a rockstar. One night, the two summon monsters to fix the past wrongs in Xochi's life. This novel sounds super trippy. I imagine it as the older magical sister of First Rule of Punk, mixed with Freaky Friday. I could be way off base, let you know when I read it. That cover is gorgeous, I would want to read that book based on it alone.
Wicked Fox by Kat Cho
Release Date: June 25th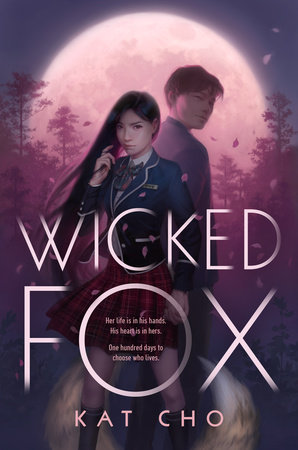 This is the story of a nine-tail fox teen girl, who is discovered by a human guy who she helps. By helping him, a man, she has gone against her way of life. It is set modern-day Seoul, which I haven't read before. I am interested in learning about this culture, and I think it is important to have this voice represented in the fantasy genre.
Like a Love Story by Abdi Nazemian
Release Date: June 4th
This novels seems as though it will follow in the steps of Darius the Great is Not Okay and Brave Face. Reza moves from Iran to New York to live with his step family. While he knows that he is gay, he is forced to confront what that means in 1989. As Reza interacts with more out people and addresses his own identity in relation to his new girlfriend, he will perhaps develop a new understanding of what it means to be gay.