Hey all, it's Sarah!
DC recently started a new YA themed imprint, which brought in some powerhouse YA writers and paired them with some stellar artists. Our library was fortunate to get ARCs of several of the new works at our librarian book buzz. I am always on the hunt for the next good graphic novel.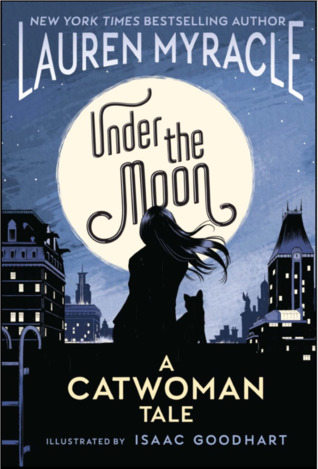 Under the Moon: A Catwoman Tale by Lauren Myracle

illustrated by: Isaac Goodhart
Summary:
This is the origin story of Catwoman, with a few brief glimpses of other supers in the Batman universe. Selina lives with her single mom and her mom's string of loser boyfriends. This last boyfriend takes the cake in abuse. He locks in her dark closets and forces her to bend to his every will. Selina doesn't have it much better at school. There she is ridiculed by her fellow classmates and even her old childhood friend, Bruce Wayne, barely notices her. After her mom's boyfriend's last terrible act, Selina decides that living anywhere else would be a better option, so she runs away. While on the streets, she meets a group of other runaways, who have big plans to rob some rich snob and earn enough money to survive. Selina walks a tight rope between good and evil. The upcoming plot is truly going to put her conscience to the test.
Review:
I would like to preface my review with the fact that I am only surface level acquainted with any and other super heroes. I enjoyed this graphic novel. It did get gritty, which may be hard for sensitive readers, but it was a plot that compels readers along. I found myself wanting more information about the group of runaways, but perhaps that is still to come. Selina was exactly a likeable character, but her redeeming qualities helped ensure that I could still connect with her. This novel was perfectly adequate.
Mera: Tidebreaker by Danielle Paige
illustrated by: Stephen Bryne
Summary:
Mera is a Xebel princess and while one day she will be queen, it is the Atlantian's who truly hold the power.  Mera is being married off her childhood best friend, though she would rather live her life independently ruling the throne. In attempt to prove to her father that she is capable of ruling, she secretly takes on the warrior's task of murdering the lost Atlantian prince. Does Mera have what it takes to kill someone?
Review:
So I know even less about the Aquaman universe than I do about like any other universe. I am assuming that is why it was difficult to follow the plot of this novel. Mera develops feelings for Aquaman, Arthur, but I never actually remember that happening. I didn't find myself connecting with characters. The coloring of this novel was striking.